A painting done largely on site on the Painting Tour in Cobh, and finished back in the studio in Dublin.
Painting Cobh was the first very public painting I did on the tour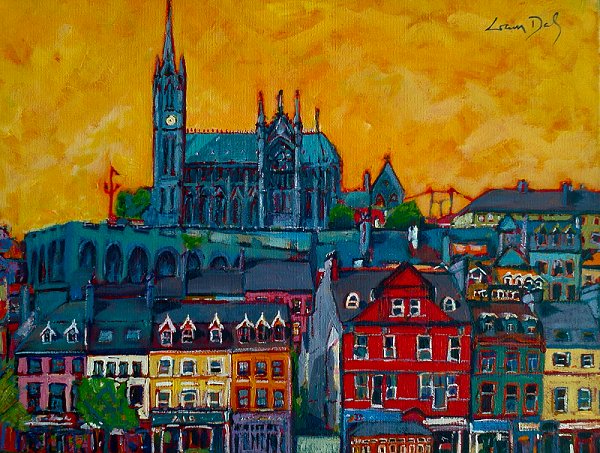 Best viewed enlarged
This painting has had a long journey – literally since I started it in Cork and carried it on the bicycle all around the rest of Ireland to Dublin, and figuratively since, well I struggled with it after losing the momentum I had doing it when on tour – but I'm very happy with it now. This photo struggles with the contrasts a bit as well as some of the richness of the colours, but you get the gist.
The experience of doing this painting also played a significant role in painting this other painting of Cobh I was recently commissioned to do.
The rest of the completed paintings from the trip can be seen here.
Other paintings mostly done on location on the tour itself and completed since back in Dublin, are Wexford, Crescent Quay and Galway Panorama, and Kenmare, Henry Street. There are over a dozen more still to come – and they're coming, I promise.
Cobh, Cork is painted on canvas, 40cm x 30cm (16 x 12 in), and is destined for New York.