A painting I've kept from you since all but finishing it on site in west Cork, just south of Clonakilty in Ring.
It was a wonderful day of painting in a stunning location, where residents, tourists, and boat-owners, came to talk to me and watch me paint – none more welcome than the woman who walked out of her house and across the road with a tray loaded with sandwiches, cakes, and tea, saving me the cycle into Clonakilty for what wouldn't have tasted as nice anyway.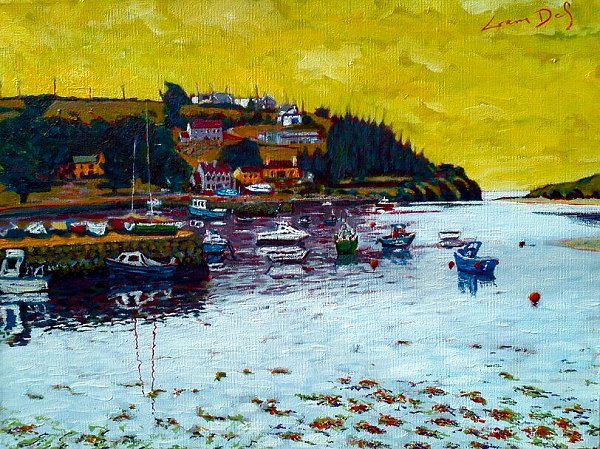 Best viewed enlarged
And the reason I didn't share this painting with you before now is because I wanted the woman it was commissioned for to see it first. It was a birthday present you see, a surprise. And a surprise for me was that I believed the very woman who silently brought me that wonderful tray was the woman who the painting was for – but you'll have to wait for the book to get the full story.
Finishing touches were applied to the painting recently before it was shipped ultimately to the birthday girl.
The rest of the completed paintings from the trip can be seen here
Other paintings mostly done on location on the tour itself and completed since back in Dublin, are Wexford, Crescent Quay and Galway Panorama, and Kenmare, Henry Street. There are over a dozen more still to come.
Ring, Cork is painted on canvas, 40cm x 30cm (16 x 12 in), and has returned to Cork.