A new painting – finally finished – a commission from the painting tour.
On Tuesday, July 26th, 2011 I left Glengariff in West Cork and cycled up over the Caha pass and down into Kenmare in Kerry.
That evening I found my spot on Henry Street and painted until it was dark. The next morning I returned to my location outside Cupán Tae, where I was generously supplied with pots of tea as I painted amid visits by passers-by of all ages.
It was a great day but despite the painting being almost finished I had to stop when I could leave it no longer if I was to cycle to my next destination before darkness (north of Beaufort via Moll's Gap and Killarney).
So this painting was then carried through another 20 counties, and taken out in all of them but I never managed to find the necessary strokes before it was back in Dublin where momentum was lost and life took over – until recently.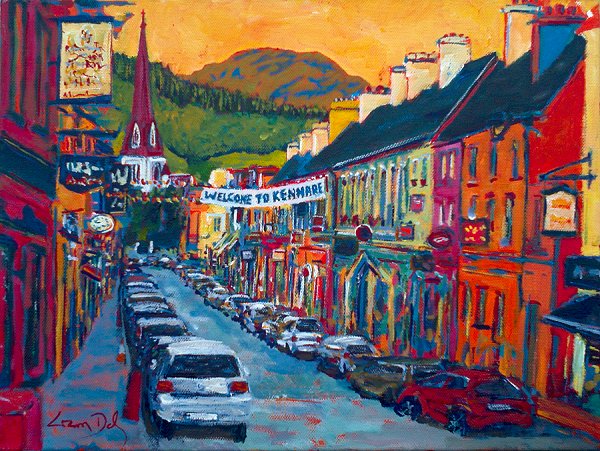 Best viewed enlarged
Other paintings mostly done on location on the tour itself and completed since back in Dublin, are Wexford, Crescent Quay and Galway Panorama. There are about 15 more to come.
Kenmare, Henry Street is painted on canvas, 40cm x 30cm (16 x 12 in), and has returned to Kerry.